"
I can be kind because I do know pain. That is the way of my heart.
"

—Hermit Mio, Chapter 89
Hermit Mio (ハーミット・ミオ Hāmitto Mio), better known as the "Mind of Edens", is a machine and one of the Four Shining Stars.[2]
Hermit is a female android with the appearance of a short and petite young girl with blue eyes, long light-blue hair tied in pigtails, and has two short, violet-colored stripes on her cheeks.
When found on Iron Hill, she wore a white bodysuit with dark-blue armor pads, violet sleeves and legs, and a mechanical headband.
While in Digitalis, Hermit is seen wearing a sleeveless black dress shirt with a fur collar and a ribbon, a pair of light-colored sleeves, a white skirt, and dress shoes.[3]
During her time under Ziggy, Hermit was shown to be a very happy and cheery android whom according to Witch always had a great smile. She had love for humans and dreamed of helping the human race as well as becoming friends with humans. She was also shown to be quite naive in nature and that ignorance was soon taken advantage of by Professor Mueller for his plans for Project C7 and for him and his lab to experiment on her for two years.
After being tortured and taken advantage of, Hermit began to show signs of depression as she secluded herself on Iron Hill and logged onto Digitalis where she also secluded herself. Also because of this, Hermit developed a bias to humans and androids who serve under humans, even going as far as to believe humans have no heart.
However, despite her bias, Hermit was willing to over look it and help Shiki and his friends defeat Spider when facing against him in Digitalis. When returned to the Edens Zero, Hermit locked herself into the Dress Factory where she refused to help save the Edens Zero from being hacked by Spider. After talking with Shiki and his friends, Hermit managed to easily defeat Spider and returned to her original personality. However, not as naive as before.
Hermit is shown to be quite intelligent as she is able to perform complex mathematical formulas, she was able to easily hack into Weisz's account and cheat in Digitalis, and hack Spider who is known to be one of the best hackers out there.
She is also shown to be a bit mischievous as she told Spider he was in range of The Edens Zero's guns and scared him to the point of wetting himself, only for the trigger to be for the fireworks function on the Edens Zero.
According to Pino's analysis, she loves fashion and has a tsundere personality.[1]
She was created by the former Demon King on Planet Granbell to serve as a member of the Demon King's Four Shining Stars.[4][5] After Ziggy's retirement, Hermit wanted to help him raise Shiki on Granbell, but left to the planet Newton where she was helping the scientists create an ether-powered weapon. However, once she helped complete it, they revealed their true colors and used it to destroy a planet Hook filled with robots much to her horror.
Hermit was taken captive by Müller who tortured and experimented on her for his own sadistic amusement until she was rescued by the Interstellar Union Army who raided the Müller Royal Laboratories to arrest the psychopathic scientist and his cohorts for planetary genocide and several illegal activities they've committed. Despite that, the damage has been done for Hermit saw the negative side of humanity and lost faith in Ziggy's ideals.
At some time after this, she secluded herself from the rest of the cosmos by leaving her body at Iron Hill and logging onto Digitalis where she then secluded herself from the Players and the NPCs by sitting on top of a cliff.
Witch states that there are some powerful radar waves coming from Sun Jewel but Hermit confidentally reassures the crew that no radar will ever find the Edens Zero.[6]
Hermit gives Weisz the Arsenal Suit to draw out the full potential of his Ether Gear and bring everyone safely back from Sun Jewel.[7]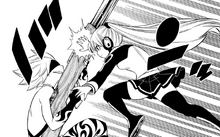 After the Edens Zero landed inside Belial Gore where the Element 4 are confronting the intruders, Hermit and her fellow Four Shining Star leaves the ship to face the Element 4 themselves.[8]
When Fie attempted to shoot down the Aqua Wing from the sky with his sniper rifle but Hermit interferred and disabled his weapon into pieces with Autonomic Break-Down Program in the process, angering Fie. Daichi tries to attack Hermit but Sister punched him in the face mid-air, protecting her. [9]
Then Hermit and her fellow Four Shining Stars changed their forms with Battle Dresses and are ready to go all out against Drakken Joe's special forces.[10]
Facing Fie as her opponent, Hermit hacked one of Belial Gore's drones with her Master Code to attack Fie who is forced to dodge from its barrage.[11] After Fie dodged the attacks from Hermit's hacked drone, Hermit is surprised to see Fie activate his fire-themed Ether Gear as he explained that machines are weak against heat and intends to burn her out of existence. Hermit dodged Fie's fire attack but lost control of her hacked drone and camouflage device.[12] She is shocked to see Fie take control of the drone and attack her with it, forcing her to block them with her arms. Hermit got hit on the head by Fie throwing the drone at her, mocking her if she can feel pain before she realized he escaped through the vent.[13]
Hermit searches for Fie's location and found him at the armoury just in time when Fie fired his new sniper rifle at her. She dodges the Flame Bullet with Ballistic Simulator and Aerial Move. Hermit then used Prison Matrix on the building where Fie is inside and took control of all of his weapons that are hooked up to the network. She explains via holographic avatar to a shocked Fie that his body temperature is much higher than normal humans and that every modern machine is equipped with heat sensors and thermal imaging.[14]
With a finishing move, Hermit tells Fie that he has no hope of ever making it as a sniper and unleashed Guns Harvest upon him. She reassures Fie in his defeat that she gave all of the bullets an Ether coating to be non-lethal. Outside the building, Hermit states she can be kind because she does know pain for that is the way of her heart.[15]
At the meeting room of the Edens Zero, Hermit finds the Aquatic Adaptation Lacrima containing Mother's Ether fascinating upon examining it with Sister and Mosco. She listens to the crew's plan to find another Relic and absorb more of its Ether that will guide them to Mother.[16] After Laguna, Jinn and Kleene have left the room, Hermit asks Witch about their presence inside the ship, which Witch states that she have limited their guest access so it will be fine.[17]
When Shiki discuss about the Demon King title shared between him and his adoptive grandfather who turned evil, Hermit states that Ziggy isn't the Demon King anymore.[18]
Arriving at Foresta, Hermit analyzed the Edens Zero log and learned that the Edens Zero previously under Ziggy did visit the Verdant Planet 15 years ago. While agreeing with Homura that there must be another Relic on Foresta, she also found another curious term: Xenolith who was the master of the Magimech Arts and the original founder of the Ether Gear, Satan Gravity and Foresta was his home planet. Then Hermit bluntly reveals to Shiki who wants to make friends with Xenolith that the said individual died a thousand years ago.[19]
Master Code (マスターコード Masutā Kōdo): As the Mind of Edens, Hermit has shown herself to be a skilled programmer, using other people's accounts to easily create and edit cheats inside Digitalis.[20] Her hacking skills are sufficient to remotely take control of any nearby machines that are connected to a computer network.[21]
Battle Dress (バトルドレス Batoru Doresu): As one of the Four Shining Stars, Hermit possesses the ability to requip into a different outfit designed for combat purposes.[27]
Unnamed Battle Dress: Hermit's signature Battle Dress which gives her a pair of cybernetic rabbit-like ears.
Enhanced Senses: As with all modern androids, Hermit is equipped with heat sensors and thermal imaging allowing her to easily detect high temperatures in her surroundings.[28]
Longevity: As a machine, Hermit is resistant to aging and lives far longer than humans.[29]
Skin Customization: Hermit, along with the other members of the Four Shining Stars, can customize the appearance of her skin at will, allowing her to hide her mechanical seams to appear more human or give herself an instant tan.[30]
Antivirus Shield: Hermit is equipped with defenses that make her resistant to being infected with viruses.[31]
Enhanced Speed: Hermit can move quickly; being able to rush at Fie and destroy his weapon before he could react, with the speed of her sudden arrival surprising Laguna and Daichi.[22]
Enhanced Agility: Hermit can gracefully leap into the air and twist her body in order to dodge sniper rifle fire.[24]
Appearances in Other Media
[
edit
|
edit source
]
| | |
| --- | --- |
| Attack | ☆☆ |
| Defence | ☆☆ |
| Marksmanship | ☆☆☆☆ |
| Ether Power | ☆☆☆ |
| Intelligence | ☆☆☆☆☆ |
| Tsundere | ☆☆☆☆ |
According to E.M. Pino's Analysis, Hermit's stats are:[1]
Community content is available under
CC-BY-SA
unless otherwise noted.