Happy (ハッピー Happī) is a cat from the planet Excede and a machine companion of Rebecca Bluegarden. He is also a member of the Edens Zero's crew.
Happy is a small blue cat with a white stomach and a black-tipped tail. He has a rectangular head, with pink ears, big black eyes with small, thin eyebrows, and light blue cheek marks near his tiny whiskers on either side of his face. Unlike normal cats, Happy's body structure allows him to walk erect.
Happy is a kind, friendly, playful young android cat who, as with many machines, is capable of feeling and expressing emotions. In comparison to his more spirited partner Rebecca Bluegarden, he is generally level-headed and serious,[2] and openly acknowledges the lack of success for their shared B-Cube channel, Aoneko Channel.[3] Despite this, he shares many similar traits with Rebecca, such as being a self-described shut-in who plays video games prior to the start of their adventure.[4] He is also somewhat mischievous, teasingly commenting that Rebecca could attract more men if their videos had more sexual appeal.[5] However, he is extremely empathetic towards his friends, expressing anger and sadness whenever he sees them suffer.[6][7]
When Happy is first revived as an android, he is initially deeply insecure about his mechanical nature out of fear of being rejected by Rebecca. Ever since Rebecca's assurance that Happy was still the same to her regardless, however, Happy has become more comfortable with being a machine.[8] Being a cat, Happy has a fondness for eating fish and is uncomfortable around dogs,[1] including the Nikora race, despite them being almost unrecognizable as dogs.[9] However, he has no issue with mechanical dogs, such as one he dances together with on Granbell.[10]
Happy often uses the catchphrases "Aye" or "Aye sir" as a form of affirmation.[1]
Happy was a cat found by Rebecca when he was young. He instantly became friends with her due to them sharing common life events. He received his name "Happy" from Rebecca for making her happy by becoming her friend. Sometime later, an accident occurred where a drunk driver ran over Happy, which ended up killing him. Thanks to Professor Weisz, he was revived into a machine body and continued his friendship with Rebecca.
Happy and Rebecca travel to the Granbell Kingdom in their spaceship, the Aqua Wing, in search of good footage for Rebecca's B-Cube Channel. While there, they take part in many of the park's amenities, including a monster hunt. While on that monster hunt, they are confronted by a large, robotic cat which is quickly destroyed by a strange man with long hair. Happy and Rebecca are shocked by the man's appearance and Happy rejects the man's offer to eat him. Happy and Rebecca are then told that he is the only human present and he asks for Rebecca to be his friend - an offer she refuses and Happy and her head back to the town. Although, the strange man follows them.[11]
When they make it back into the town, they inform the robots there of the man's presence and are informed that the man in question is really Shiki Granbell - the sole human of Granbell Kingdom. After they are formally introduced, Happy, along with Shiki, Rebecca, and the robots of the kingdom throw a celebration. When Shiki falls asleep, Happy and Rebecca are told about Shiki's background and after Rebecca cuts his hair, she and Happy retire to bed. While they are sleeping, they are abducted by Castellan and the rest of the robots of Granbell who are seemingly trying to steal their ship. However, they are rescued by Shiki who tries to sacrifice himself for their sake, but Rebecca tells him that they are friends and the three flee Granbell together.[12]
After escaping the giant fish in the Poseidon Nero Sector, he marvels with the others at the sight of the Aoi Cosmos outside their windows, ecstatic at seeing the large quantity of fish.[13] They soon arrive at the Fire Planet, Red Cave, amazed by the pretty view of an ocean.[14]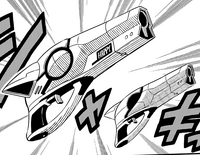 Happy Blasters (ハッピーブラスター Happī Burasutā): Happy can transform his mechanical body into a pair of blasters that fire Ether bullets. These bullets are powerful enough to incapacitate their targets, but won't kill them.[15]
Ether Bullet Full Burst (エーテル弾 フルバースト Ēteru Dan Furu Bāsuto): Happy charges energy and fires a powerful burst of Ether bullets on the target, causing massive damage.[16] Using this technique leaves Happy exhausted afterwards.[17]
Machine Physiology: As a machine, Happy does not have any issues with breathing or communicating while underwater.[18]
B-Cube (B・キューブ B Kyūbu): Happy uses a B-Cube terminal with a heart-shaped symbol to record, upload, and share videos on his and Rebecca's channel, Aoneko Channel.
Appearances in Other Media
[
edit
|
edit source
]
| | |
| --- | --- |
| Attack | ☆ |
| Defence | ☆ |
| Marksmanship | ☆☆☆☆ |
| Ether Power | ☆☆ |
| Intelligence | ☆☆☆ |
| Mechtitude | ☆☆☆ |
According to E.M. Pino's Analysis, Happy's stats are:[1]
Happy shares his name and most of his character design with Happy, a character from Hiro Mashima's previous work, Fairy Tail. The only noticeable difference is that the tip of Happy's tail is black instead of white.
Community content is available under
CC-BY-SA
unless otherwise noted.