Welcome to the


A wiki dedicated to everything about the Manga Edens Zero created by Hiro Mashima. This wiki aims to archive Edens Zero and all related material. Help us by creating or editing any of our articles! We are currently managing over 239 Articles on this wiki.
Featured Article
Hiro Mashima

---

Hiro Mashima (真島ヒロ, Mashima Hiro) was born on May 3, 1977 and is a Japanese manga artist recognized for his fantasy manga Rave Master, Monster Soul, Fairy Tail and Edens Zero.

He was a notable guest at the 2008 San Diego Comic-Con. He won the Kodansha Manga Award for shōnen manga in 2009. He was also given the Harvey Awards International Spotlight award in 2017 and the Fauve Special Award at the 2018 Angoulême International Comics Festival.
Recent Manga Chapter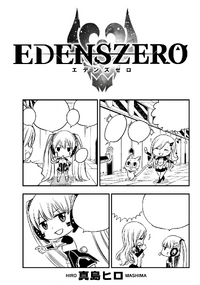 Chapter 42: Pino's Dream
---
Spoiler Alert! Read at your own risk!

---
After Hermit stopped Spider, she apologized for being uncooperative and Witch forgives her. Sister on the other hand seems very angry at her which makes Hermit states that she hates Sister in return, claiming that she always teases her. Sister then tells Hermit that she's glad to have her back.
In the meantime, Homura, Rebecca and Happy takes a bath in the Spa of Eden. The three begins to talk about Homura's master, Valkyrie, only for Homura to (once agian) challenge Rebecca to a fight in the bath.
The boys and Pino are in the dining area while this happens. Shiki then asks Pino is she wants a taste of the burger that he is currently eating to which she says that she doent have taste buds which saddens Shiki to a great extend. Pino then explains that it's ok and that she has a feeling that she will one day get the ability to taste, revealing her dream of becoming human.
On planet Brown Sea Amira is chatting with Jesse. They discuss and argue about their time in Digitalis, and Amira expalins that she will infiltrate Drakken Joe. Jesse then cuts the connection since Elsie showed up. He is then revealed to be a spy who wants to bring an end to the Space Pirate.
Read the full summary here.
Official Sites
Crunchyroll

Official English distributor for the English release of Edens Zero.

Kodansha Comic

Official English News site for the English release of Edens Zero.
Affiliated Sites
If you would like to become an affiliate of the Edens Zero Wiki contact us.
Recent Blogs
Featured Picture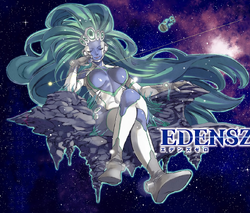 Mother, the Goddess of Space
Featured Quote
Creator's Corner
Poll
Hiro Mashima will be putting forth his brand-new series – Edens Zero!!! Our poll this time asks you the following:
What do you look forward to the most about the new series?