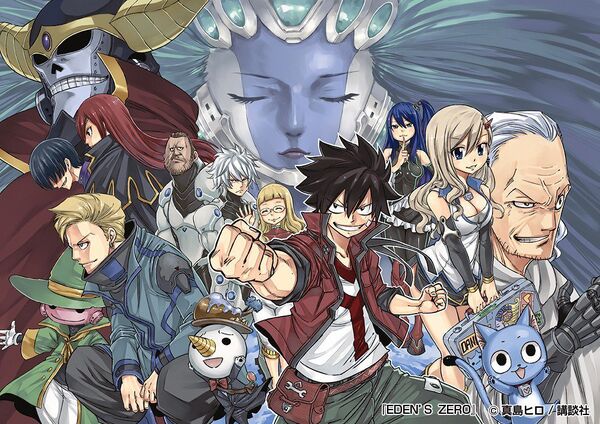 Welcome to the


A wiki dedicated to everything about the Manga Edens Zero created by Hiro Mashima. This wiki aims to archive Edens Zero and all related material. Help us by creating or editing any of our articles! We are currently managing over 562 Articles on this wiki.
Featured Article
Hiro Mashima

---

Hiro Mashima (真島ヒロ, Mashima Hiro) was born on May 3, 1977 and is a Japanese manga artist recognized for his fantasy manga Rave Master, Monster Soul, Fairy Tail and Edens Zero.

He was a notable guest at the 2008 San Diego Comic-Con. He won the Kodansha Manga Award for shōnen manga in 2009. He was also given the Harvey Awards International Spotlight award in 2017 and the Fauve Special Award at the 2018 Angoulême International Comics Festival.
Recent Manga Chapter
Chapter 98: Advent of the Demon King
---
Spoiler Alert! Read at your own risk!

---
While Weisz is down, Shiki faces off against Drakken, both of them using Overdrive. Meanwhile, Witch, Hermit and Sister are preparing to destroy the Satellite Blaze and begins to charge the Star Bringer. On the Belial Gore Rebecca and Homura are working together to break free from Drakken's grip. Back at the Edens Zero, the three androids of the Four Shining Stars fires the Star Bringer and destroys the Satellite Blaze. At the same time, Shiki sees Drakken's past memories out of him and tells the previous Drakken that he would like to be his friend, before telling the current one to go to sleep. He deals one final blow before the battle ends.
Read the full summary here.
Official Sites
Crunchyroll

Official English distributor for the English release of Edens Zero.

Kodansha Comic

Official English News site for the English release of Edens Zero.
Affiliated Sites
If you would like to become an affiliate of the Edens Zero Wiki contact us.
Recent Blogs
Since Drakken Joe and Shiki have displayed their Complete Overdrive, I think it would be awesome if Rebecca, Homura, Weisz, and Kris & Kleene to have their own respective Complete Overdrives in the future. Of course like Draken Joe said, each of them should push their Ether to its critical point, thus changing to their physical appearance into a different form
For example, I can see Homura viewing her Complete Overdrive as a substitute for Battle Dress: Valkyrie Armament System since she is the human member of the Four Shining Stars and successor of Valkyrie Yuna; or Weisz further enhancing his Arsenal Suit into something more powerful and stronger than the previous model with his Complete Overdrive.
I can't wait to see what's in store of Ma…
Featured Picture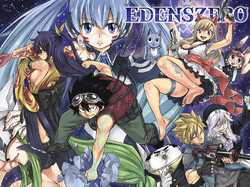 The Crew of Edens
Featured Quote
"
I don't follow your rules. My friend is more important than that. I'm not some hero fighting for justice. If you hurt my friends...then I'm willing to be the Demon King!!!!
"

—Shiki Granbell, Chapter 53
Creator's Corner
Poll
Hiro Mashima will be putting forth his brand-new series – Edens Zero!!! Our poll this time asks you the following:
Community content is available under
CC-BY-SA
unless otherwise noted.