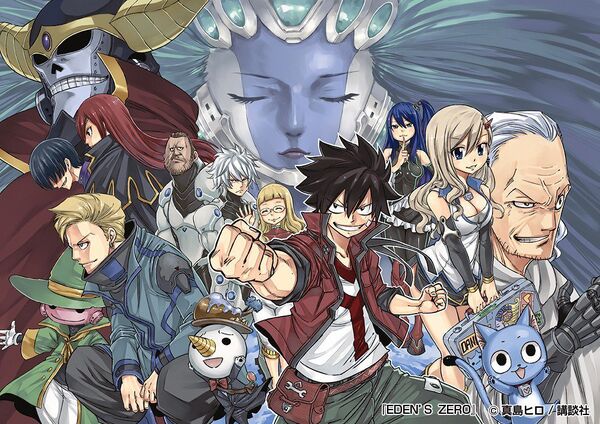 Welcome to the


A wiki dedicated to everything about the Manga Edens Zero created by Hiro Mashima. This wiki aims to archive Edens Zero and all related material. Help us by creating or editing any of our articles! We are currently managing over 942 Articles on this wiki.
Featured Article
Hiro Mashima

---

Hiro Mashima (真島ヒロ, Mashima Hiro) was born on May 3, 1977 and is a Japanese manga artist recognized for his fantasy manga Rave Master, Monster Soul, Fairy Tail and Edens Zero.

He was a notable guest at the 2008 San Diego Comic-Con. He won the Kodansha Manga Award for shōnen manga in 2009. He was also given the Harvey Awards International Spotlight award in 2017 and the Fauve Special Award at the 2018 Angoulême International Comics Festival.
Recent Manga Chapter
Chapter 191: Zombie Nurses
---
Spoiler Alert! Read at your own risk!

---
Read the full summary here.
Recent Anime Episode
Official Sites
Crunchyroll

Official English distributor for the English release of Edens Zero.

Kodansha Comic

Official English News site for the English release of Edens Zero.
Affiliated Sites
If you would like to become an affiliate of the Edens Zero Wiki contact us.
Recent Blogs
Since the Commando Carriers of Justice and Eraser are Angel Feather (Angel/Sorano) and Hot Eyes (Hoteye/Richard Buchanan) of the Dark Guild Oración Seis, I speculate that the other Commando Carriers of the Oración Seis Interestelar are:
1. Jaguar's Commando Carrier - Racer (Sawyer) because both are speed-themed as jaguars are fast animals which it kinda fits there.
2. Feather's Commando Carrier - Midnight (Macbeth) because how similarly they closed their eyes and not do much until roused into action where they are at their most dangerous.
3. Holy's Commando Carrier - Brain/Zero (real name forever unknown) because she seems able to keep Justice in line and make him listen to her regardless of his one-tracked vendetta against Elsie, and that sh…
Featured Picture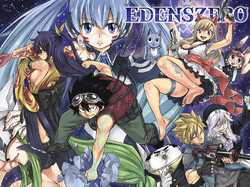 The Crew of Edens
Featured Quote
"
I don't follow your rules. My friend is more important than that. I'm not some hero fighting for justice. If you hurt my friends...then I'm willing to be the Demon King!!!!
"

—Shiki Granbell, Chapter 53
Creator's Corner
Poll
Hiro Mashima will be putting forth his brand-new series – Edens Zero!!! Our poll this time asks you the following: